After AT THE EDGE OF THE END and WORDS WITH DESTINY, we are proud to announce the new album of Southern-Germany based brass infused punk-rock eight-piece THE PROSECUTION: THE UNFOLLOWING will hit the streets on August, 11th via Long Beach Records Europe and comes as CD, vinyl, digital, limited splatter-vinyl, limited shirt-bundle as well as on tape and can be pre-ordered now. The limited splatter-vinyl version is only available directly from the band's webshop.
In the meantime, to kill some time, we proudly present the first single from THE UNFOLLOWING: 'Where We Belong' is available on Spotify as well as every online store worldwide from today on!
Listen to 'Where We Belong' on Spotify
Download 'Where We Belong' from iTunes
Watch the brand new single 'Where We Belong' now: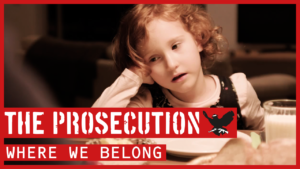 Further, the band announced new dates coming along with the new record, THE UNFOLLOWING!
Tickets are already on sale:
THE PROSECUTION ticket-shop
x-why-z ticket-shop
THE PROSECUTION – FESTIVALS 2017:
19.05. IT – Martignano TN, Martignano All Ska
27.05. DE – Möschlitz, Ska meets Rock´n Roll
31.05. DE – Rock Am Ring, Ringrocker Warm Up
10.06. DE – Hof, IN.DIE.musik Festival
13.06. DE – München, Backstage Werk, W/ Me First And The Gimme Gimmes
16.06. DE – Bischofsmais, Rock The Hill Festival
17.06. DE – Kelheim, JUKUU Festival
01.07. DE – Enkirch/Mosel, Fallig Open Air
21.07. AT – Timelkam, SBÄM Fest
22.07. DE – Nürnberg, Fight Back Festival
29.07. DE – Schrobenhausen, Noisehausen Festival
11.08. DE – Open Flair Festival, Eschwege
12.08. DE – Böbing, Böbing Open Air
18.08. DE – Bonn, Green Juice Festival
19.08. DE – Karben, Karben Open Air
09.09. DE – Breitbrunn, Heilig Länder Rock Festival

THE PROSECUTION – THE UNFOLLOWING tour 2017:
presented by Ox-Fanzine/Livegigs.de, Kein Bock auf Nazis, Pro Asyl, und was sonst noch alles
29.09. DE – Leipzig, Werk 2 Halle D
30.09. DE – Berlin, Badehaus
01.10. DE – Hamburg, Hafenklang
02.10. DE – Kiel, Die Pumpe
06.10. DE – Kronach, Struwwelpeter
07.10. DE – Trier, Lucky's Luke
13.10. DE – Konstanz, Kula
14.10. CH – Bern, Dachstock
20.10. DE – München, Backstage Club
21.10. DE – Stuttgart, Kellerclub
27.10. DE – Nürnberg, Z-Bau
28.10. DE – Hannover, Lux
29.10. DE – Münster, Sputnikcafé
30.10. DE – Wiesbaden, Schlachthof (Räucherkammer)
02.11. DE – Schweinfurt, Stattbahnhof
03.11. CH – Luzern, Sedel
04.11. CH – Lenzburg, Met-Bar
10.11. DE – Karlsruhe, Die Stadtmitte
11.11. DE – Schüttorf, Komplex
24.11. DE – Töging am Inn, Silo 1
25.11. DE – Köln, MTC
01.12. DE – Bamberg, Sound-n-Arts
02.12. DE – Bochum, Rotunde
08.12. AT – Wien, DasBACH
09.12. DE – Dresden, Beatpol
15.12. DE – Regensburg, Alte Mälzerei, Jahresabsch(l)usskonzert