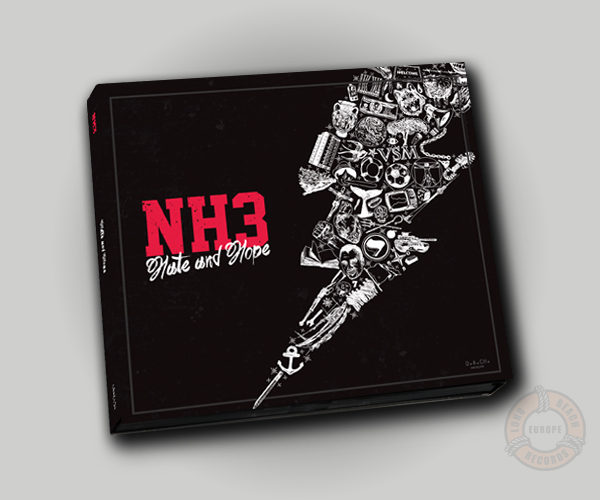 NH3 – Hate And Hope (CD)
Rebellious Ska-Punk, lashing brass, inflaming lyrics, catchy hooklines, off-beat arrangements that make you jump up and down automatically: it is nothing less than the essence of those aspects that nails down what NH3 from Italy are up to.
23 in stock
Product Description
HATE AND HOPE depicts the two poles that drive NH3: hatred against a world that turns to be more and more excluding, obnoxious and inhuman on the one hand and hope and the absolute, steadfast faith on the other hand that it is possible to change this rugged world into a better and more just place. Surrendering to such a harsh environment would mean to surrender the essence of the individual life. Thus it is essential for NH3 to become active, to oppose those structures, to wake people up and to walk through this world with a clear mind, in order to transform it into a more just and more fair place that provides the same chances to each individual, creating a path to an equal and happy society.
For fans of TALCO, BANDA BASSOTTI, LOS FASTIDIOS, THE PROSECUTION, ANTI-FLAG
– 3 panel digipak CD
– 8 pages booklet
– special partial UV varnish on front- and back-cover
Tracklist:
01.)Qualcosa Di Meglio
02.) No Borders
03.) Berlin Calling
04.) La Nuova Tratta Degli Schiavi
05.) L'odio
06.) Old School Attitude
07.) Sscs
08.) Un Passo Indietro Mai
09.) Nella Bocca Del Lupo
10.) Bella Ciao
11.) Il Vaso Di Pandora
12.) Una Scelta Diversa
13.) L'Ironia Della Sorte